About Swaffham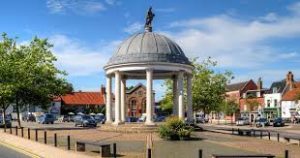 Swaffham is ideally placed to view the whole of Norfolk. So whether you are staying for the odd day or two, or for much longer, there is always something to see and do.
Our park is rurally situated, but if you don't want to drive, a 15 minute walk will bring you into Swaffham town centre, which is also on a regular bus route.
Once in Swaffham there is a good selection of small shops, restaurants, pubs, fish & chip shops, other take-away outlets, the Tourist Information Centre, an excellent museum, several supermarkets, and much more besides.
Mention of course must also be made of the Green Britain Centre which draws many visitors to Swaffham. This features the single most powerful wind turbine in the UK with a unique viewing platform some 300 steps up!
Swaffham is very well known for its Saturday market. People travel from miles around to see this bustling market – very much a feature of Swaffham.